Unlocking the Essentials of Central Heating Systems: A Revelation of Significance and Varieties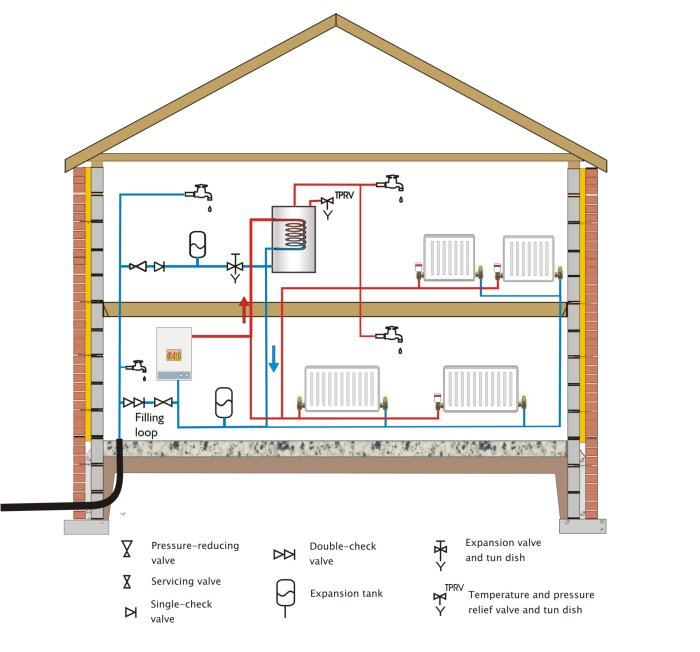 In our modern world, central heating systems have become an integral part of daily life. The importance of these systems cannot be overstated; they play a crucial role in our homes, restaurants, factories, commercial spaces, and administrative buildings. Central heating is not just a winter companion; its significance transcends the cold season. It is the lifeline that ensures hot water is readily available for a multitude of purposes.
The Unveiling of Central Heating Types
The Central American Rheem Kettle:
Step into the realm of Rheem, the largest manufacturer of water heating products in North America. These products have journeyed across continents, including Egypt, and have become essential fixtures in homes and commercial establishments. The gas-fired boiler stands as a symbol of reliability and efficiency. It boasts three water sources – the hot water source, the return line, and the cold water source.
The return line is equipped with a smart pumping system and a precision control panel. This control panel, a marvel of technology, meticulously regulates the temperature and operation, ensuring efficient gas consumption. The Rheem boiler comes in various sizes, catering to a wide range of needs, from 150 liters to 300 liters. The boiler chamber is well-structured, incorporating a circulating pump, power source cable, and connections for the cold and hot water supply.
The Exquisite Heater and Tank:
For spaces with multiple bathrooms and kitchens, the heater and tank are the perfect additions to your central heating system. This dynamic duo integrates a heat exchanger into the system, ensuring that hot water is efficiently distributed to various points of use. The heater's size is carefully selected based on the number of hot water outlets and the number of occupants.
The Reflex heat exchanger, a marvel of German engineering, is known for its exceptional insulation properties, preserving water temperature for extended periods. Its magnesium core can withstand temperatures up to 1000 degrees, facilitating rapid water heating and maintaining a closed loop between the heater and the Reflex exchanger. Reflex Winkelmann GmbH, headquartered in Germany, is a leading player in the heating technology sector. With an international presence, it produces innovative components and comprehensive solutions for pressure maintenance, water installation, gas removal, water treatment, storage water heaters, heat exchangers, and hydraulic vessels.
A Greener Future with Smart Heat
Smart Heat, a prominent leader in central heating technology in Europe and the best Egyptian company in this sector, is dedicated to providing you with sustainable and energy-efficient solutions. Our commitment to the environment aligns with our unwavering support for sustainability and climate policy objectives as approved by the German federal government. We believe in leveraging proven technologies and forward-thinking innovations to reduce environmental impact.
In a world where central heating has become an indispensable part of daily life, Smart Heat stands as the beacon of innovation and excellence. Our central heating systems promise unmatched efficiency, convenience, and sustainability, ensuring that you have access to hot water when and where you need it.
Choose Smart Heat and embark on a journey to a world of warmth and luxury, where central heating isn't just a necessity but a lifestyle enhancement that elevates your comfort and well-being.